The Artist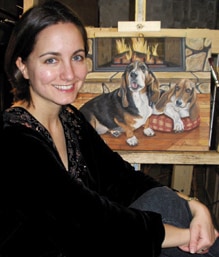 I have been painting and drawing for as long as I can remember. For me, art has always appealed to my human emotions. And in my life, animals have a place of special importance. So it seemed a natural succession for these variables of my passion for animals to be closely related to the expressive capacity of painting and drawing.
After earning a Bachelors of Fine Arts, Studio Arts at the University of Colorado at Boulder, I worked at several different museums until I found the focus of my own artwork. Today, my original commissioned paintings and drawings hang in private collections throughout the world.
I remember every animal I have ever worked with – from the pink freckled patch on a certain dog's nose, to the rescued shelter cat with flea-bitten ears. From the fetch-playing dog to the small lap dog who thought every stuffed animal was her toy. From the show horse to the retired therapy horse. From the cat who overcame cancer to the dog who did not. Each animal I have painted or drawn has touched my life and it is truly an honor to be trusted to capture a part of them. Creating commissioned pet portraits and pet drawings is the most rewarding work because my clients share their passion with my own.